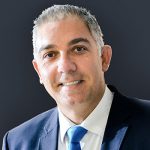 Dr. Christodoulos Laspos
Lecture 1: Treatment of open bites with the use of "Sugawara" mini plates.
Lecture 2: When you fail to plan…you plan to fail.
Professor Birte Melsen
Lecture 1: TADs, a Blessing or a Curse?
Lecture 2: TADs, a Blessing or a Curse?
Professor Juan Martin Palomo
Professor Nikhilesh R Vaid
Lecture 1: TAD terrain:Current perspectives and future forecasts!
Lecture 2: More than meets the EYE! – Aligner Evidence through the Clinician's lens.
Professor Vaska Vandevska-Radunovic
Lecture 1: Stability of orthodontic treatment results – influencing factors
Lecture 2: Treatment alternatives for impacted teeth in the anterior segment
Professor Dr. Andrea Wichelhaus
Lecture 1: New innovative geometries in biomechanics.
Lecture 2: Interdisciplinary treatment of complex patients.